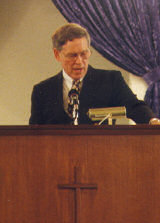 Click here to hear Dr. Dunlap's sermon on Gensis 22, When Love Demands Proof, or browse more than 160 recordings of his beloved sermons at his new ministry website, Preaching the Word Around the World with Dr. Reg Dunlap.
Try this week's featured sermon, and subscribe to our podcast.
DYNAMIC SERMONS FOR THE LENTEN AND EASTER SEASON
As we approach the greatest season in the Christian calendar, the evangelical minister must be at their best in preaching. The following dynamic expository sermons will be very helpful as you prepare your sermons for the Easter season. Please check them out under the subject - Holiday Sermons. Here are a few of them.

LENT
The Demanding Christ
Defects In Your Discipleship
Dying in Order To Live
Testing Your Discipleship
The Determined Christ
Living For Christ by Fractions
Discipleship Does . . .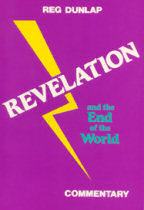 Revelation and the End of the World
In this 258 page commentary on Revelation, Reg Dunlap explains in layman's language what the book is all about. After having studied Revelation seriously for a number of years, the author sets forth what he believes this book teaches will take place in the future. Through thorough research and comprehensive outlining, the book has been homiletically arranged, scholarly presented . . . More
Most Recently Added
SermonSeeker.Com is an online sermon resource sponsored by Dr. Reg Dunlap's RFD International Ministries for Pastors and Christian workers in the preparation of dynamic, expository messages. We currently have 687 sermons online, with more being added monthly. You can preview sermons for free, and the complete text is available for immediate download. Prices are $15.00 for 5 or $69.95 for 52 through the expository preaching program. Free samples are also available.
Free Sermons
Dr. Dunlap is one of the most popular contributors of sermons on the Internet. For the many busy Pastors who desire excellent expositional, analytical, alliterated, word for word sermons, an Expository Preaching Program subscription is for you. These Biblically-based sermons will greatly enhance your preaching and teaching ministry. Please be sure to check out the free samples.
Rev. James Dean
Christian University, Administrator, Pakistan