RFD International Ministries
Dear Pastor,
We have seen God's Spirit moving upon our distinctive ministries. The evangelistic crusades, Bible conferences and Super Sunday Services have been blessed of God. Be sure to read portions of letters from the Mail Box by Pastors whose churches have been richly blessed with conversions and record attendance.
I believe such a sane and sound ministry would be of great help to your church. Call my Crusade Office at 207-439-0218 or write to us by email or postal mail.
P.S. - Be sure to read the stories from some of my past crusade, conference, and seminar speaking.
Evangelistic Crusades
These area-wide and church-centered crusades consist of dynamic preaching by Dr. Dunlap and heartwarming music by members of the Team. The major aim of the crusades is to reach the unconverted with the Gospel of Christ. A Crusade Manual is available to help prepare for the special meetings.
Bible Conferences
These special services are designed to develop the spiritual growth of believers through the deeper life preaching and teaching of the Word of God. Dr. Dunlap is one of the most gifted expositors of the Bible. With his God-given ability to initiate a response within the hearts of his hearers, Dr. Dunlap has seen hundreds of believers have a revolutionary experience with the living Christ. These conferences have been a rich blessing to churches across the United States. Plan now to have a Masterful Christian Living Conference for your church and contact us.
Missions Conferences
Dr. Dunlap has been invited to speak at numerous missions conferences throughout the country. These conferences are planned to awaken the local church to the challenge of missions at home and abroad. Committed to the ministry of world evangelization, Dr. Dunlap has conducted services overseas and his organization, EFCA, has provided hundreds of his books and sermons to native Pastors throughout Africa and various parts of the world.
Bible Prophecy Conferences
After having studied Bible prophecy for many years, Dr. Dunlap has written two popular books on the subject entitled, "Revelation and the End of the World," his 258 page commentary, and "The Next Invasion From Outer Space." His Bible prophecy conferences depict prophetic events which are to take place in the future.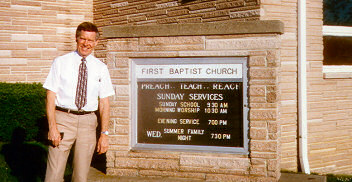 This has been one of the most successful ministries of Dr. Dunlap. He has conducted these special Sunday services from Maine to Florida. He speaks at four services of the church - Sunday School, Morning Worship, Pre-Service seminar, and Evening Worship on a major theme for that Sunday. More Information.
Literature including books, booklets, Bible studies, sermons, cassettes by Dr. Dunlap are constantly being distributed to people across the country and throughout the world. His booklets on suffering and sorrow are being used by Pastors, Doctors and Hospitals in different parts of the United States. Visit Our Bookstore.
Expository Preaching Seminar
Dr. Reg Dunlap is not only a dynamic preacher, but he is a dedicated student of the Bible. Having received his Doctor of Philosophy in Theology degree, he did his dissertation on "A Pragmatic and Exegetical Study of Colossians." Dr. Dunlap makes the Bible come alive in his teaching and preaching. His sermons have been sent out all over the world through his Expository Preaching Program. Be sure to check out his available sermons, cassettes and books.
Bible Instruction Seminars
To help believers have a firsthand knowledge of their Christian faith, Dr. Dunlap has developed teaching seminars on various subjects: Bible, Holy Spirit, Discipleship, Prayer, God's Will, Christian Doctrine, Witnessing, Prophecy, etc. These in-depth seminars help guide believers into the reality of having daily fellowship with God.
Personal Evangelism Seminar
Here Dr. Dunlap seeks to train the lay people of the church in the art of daily sharing their faith. This seminar includes five sessions on witnessing. They are:
The Penetration of the Challenge
The Preparation of the Christian
The Presentation of the Content
The Preservation of the Convert
The Problem of the Cults
This seminar has been a highlight in the program of many churches. Talks are also given on how to have an effective prayer and Bible study time.