About Dr. Dunlap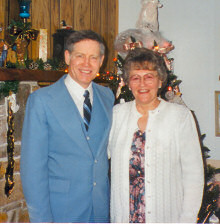 Dr. Reg Dunlap and his wife, Ellie
The Rev. Dr. Reg Dunlap, nationally-known speaker, has served the Lord as a pastor, writer, evangelist and teacher. As founder and director of the Evangelism For Christ Association, he directs an interdenominational ministry which functions as a servant to the local church in the area of evangelism, renewal and revival. He is the author of many books, including Sound Doctrine May Be Harmful To Your Religious Experience, The Next Invasion From Outer Space, and Revelation and the End of The World.
As an ordained Baptist minister, he has received invitations to conduct evangelistic crusades and Bible conferences across the country and different parts of the world with thousands of lives being touched by his preaching and teaching ministry. As a sought-after conference speaker, one evangelical educator wrote of him: "Seldom does one find the Spirit of God using one man in such a total ministry of evangelism and deeper life dedication".
Dr. Reg Dunlap is one of the most popular contributors of sermons on the Internet, with hundreds of Pastors downloading his dynamic Bible messages each month. He is presently in the process of making more than 1800 of his Bible sermons available to Pastors through his Expository Preaching Program.
Dr. Dunlap and his wife, Eleanor, have been married for forty-eight years and have two adult children. They reside in Maine where Dr. Dunlap continues to hold evangelistic crusades, Bible conferences, prayer and witnessing seminars in churches and cities across the country and in different parts of the world.