Super Sunday Services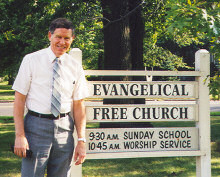 Super Sunday is a one day action-packed series of services in a local church designed to stimulate and challenge believers in the areas of evangelism, discipleship, personal witnessing, prayer, and making Christ a living reality in one's daily life. Through the dynamic preaching and heart-warming teaching of Reg Dunlap these four separate services are planned to bring genuine revival and evangelism to the church. It has already happened in many churches where a Super Sunday program has been held.
To schedule a "Super Sunday Rally" for your local church, call our Crusade Office at 207-439-0218 or email us.
Special Sunday Services
Sunday School Service
Reg will teach an in-depth Bible study lesson that will be relevant and life-challenging to a combined Sunday School—teenagers through adults.
Morning Worship Service
This service is planned to reach the unsaved by encouraging believers to invite their friends to the service. It is also a time when Reg will present a dynamic challenge for Christians to live for Christ and serve Christ within the local church.
Pre-Service Seminar
In this one hour service Reg presents his Dynamic Christian Witnessing course on the art of how to share one's faith. The study notes and training cassette tapes will be available to those who attend the class.
Evening Worship Service
The Super Sunday will be climaxed with a challenging message by Reg for believers. Such a message could be on witnessing, prayer, discipleship, the Holy Spirit, or some aspect of Christian living and service.